Sold
Out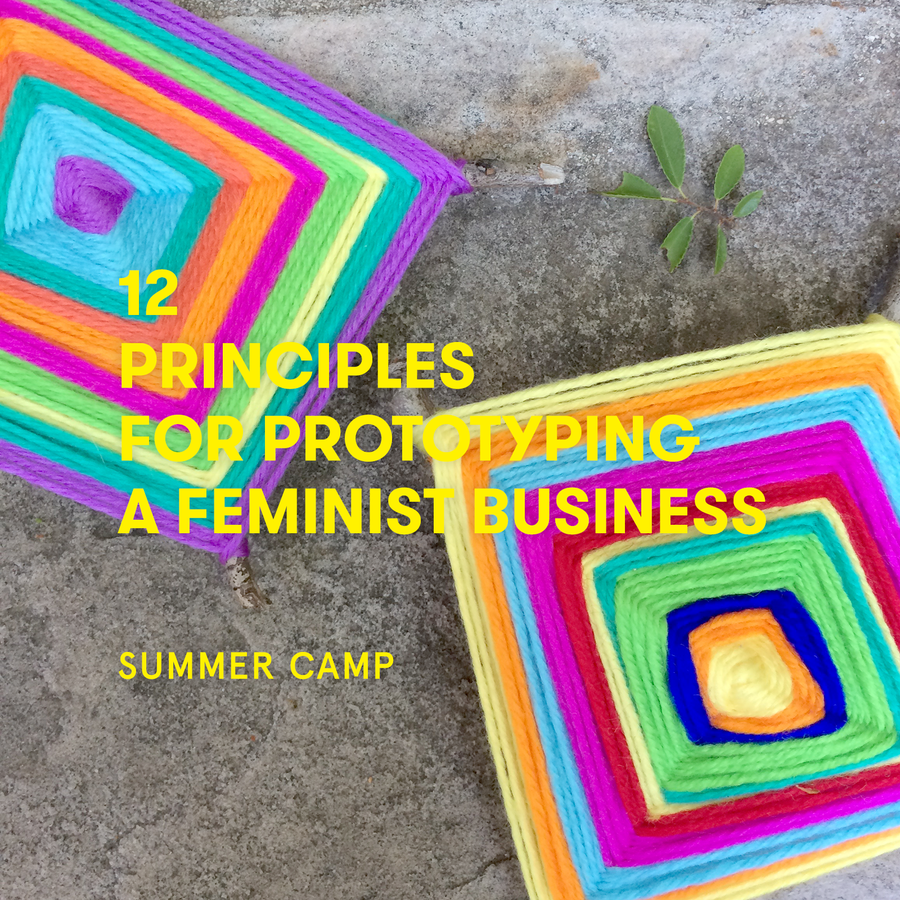 Feminist Business School: 12 Principles Summer Camp
$

240.00

6-WEEK ONLINE COMMUNITY
June 19 to July 30, 2017

TWELVE PRINCIPLES FOR
PROTOTYPING A FEMINIST BUSINESS
1. You have a body.
2. You are connected to the earth, the plants and all living beings.
3. Integrate!
4. Institutionalize empathy: build frameworks that support feelings.
5. Embody your values.
6. Reclaim happiness: make new definitions of success.
7. Consider everything an experiment.
8. Free yourself from the myth of the meritocracy.
9. Tell the truth.
10. Cultivate abundance consciousness.
11. A business can be a healing for yourself & others.
12. A business can be a model for a new social & economic order.

This is a 6-week camp for those who want to explore the 12 Principles for Prototyping a Feminist Business in a playful, collaborative community. Using The 12 Principles Workbook as our guide, we will engage the principles through weekly writing, reading, and creative exercises. The workbook provides activities to help you become more integrated and embodied as you slough off patriarchal belief systems and expand your entrepreneurial vision.

This is not school, this is camp. It's the joy of being together, being embodied, feeling free, having fun, gazing at the stars, remembering who you are, trying new things, making unexpected friends, eating weird food, jumping into freezing cold water, and stepping out of daily life into the playground of the wilderness.

Every Monday, I will introduce two principles and post the workbook activities. Midweek, I share 2 texts, videos, or resources that engage the week's themes. On Friday, I will post prompts for you to share your process. You are encouraged to contribute your own links, materials, and experiences throughout the six weeks. Together, we will generate and circulate ideas, insights, and resources to support the formulation of our own feminist businesses.

Through conscious engagement, self-reflection, and play we remember who we are, what we love, and why we're here. Let's cultivate supportive community as we learn more about ourselves and explore new ways of being in business, together.

Includes—
• 12 Principles for Prototyping a Feminist Business Workbook
• Set of 12 Principles Pocket Cards
• Membership in the online community through August 31

Summer Camp is open to anyone with an interest in feminist business principles. If you are new to my work, please watch my 20-minute talk, Proposals for the Feminine Economy to ensure my approach is a good fit for you.

Please email me to be placed on the waitlist for the next offering.